Bathroom Fitters in the Glasgow Area
TEL: 07862468895
EMAIL:
 info@bathroomsglasgow.uk
Contact us for a free bathroom installation quote.
Click link above to have a look at our fully fitted bathroom package deals
Quality Bathroom Installations
JJK bathrooms are a small family run bathroom design /installation company based in Glasgow fitting bathrooms all over glasgow / lanarkshire and surrounding areas. If it is an all in one bathroom fitting company you are looking for JJK bathrooms are exactly that. From bathroom design to bathroom installation we take the hassle out the whole process out of bathroom fitting. Whether it be a standard bathroom , tenement bathroom or even a wetroom in the glasgow area we do the lot.
When we design bathrooms we like to involve our customers in the design process so we can deliver your perfect bathroom just the way you want it. With our highly experienced bathroom fitters who have been fitting bathrooms in glasgow for over 10 years take great pride in there work. so you can be assured of a high quality finished bathroom installation.
JJK Bathroom fitters glasgow have over 10 years experience in the trade and take great pride in there work. With the combination of experience and pride in there work you can be sure of an excellent quality fitted bathroom from our bathroom fitters. We cover every single trade needed to make your dream bathroom a reality from plumber, tiler, electrician. plasterer and painter to the rubbish removal at end of job. They are all highly experienced tradesmen who all strive to leave a high quality finish every time.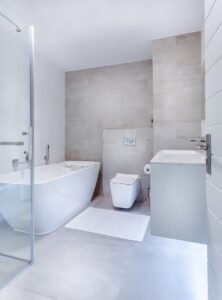 Bathroom Fitting Services
JJK Bathroom fitters glasgow offer a range of bathroom fitting services. As bathroom fitters the way we like to work is rip everything out replace all necessary pipe work , repair all wall to be ready for tiling or plaster so we can be sure we can leave the best bathroom installation possible. It is not just fully tiled bathrooms our bathroom fitters also do wet wall bathrooms.
Bathroom Design in Glasgow
Once we have organised an initial home visit for a bathroom quotation. We can get down to the bathroom design. First of all we will have a discussion of what you would like fitted in your new bathroom. After that is done we will go through the different options you can have inside your bathroom like if you were wanting to move the location of the toilet or sink or change from a bath to a shower tray or even change the  bathroom design altogether and have a wet room installed by our bathroom fitters. Once you have chosen what type of style you would like your new bathroom to look like we get down to designing using the latest cad software. So you have an excellent idea of how your new bathroom is going to look even before the bathroom is even started.
Have a look on our design link to see more bathroom cad plans.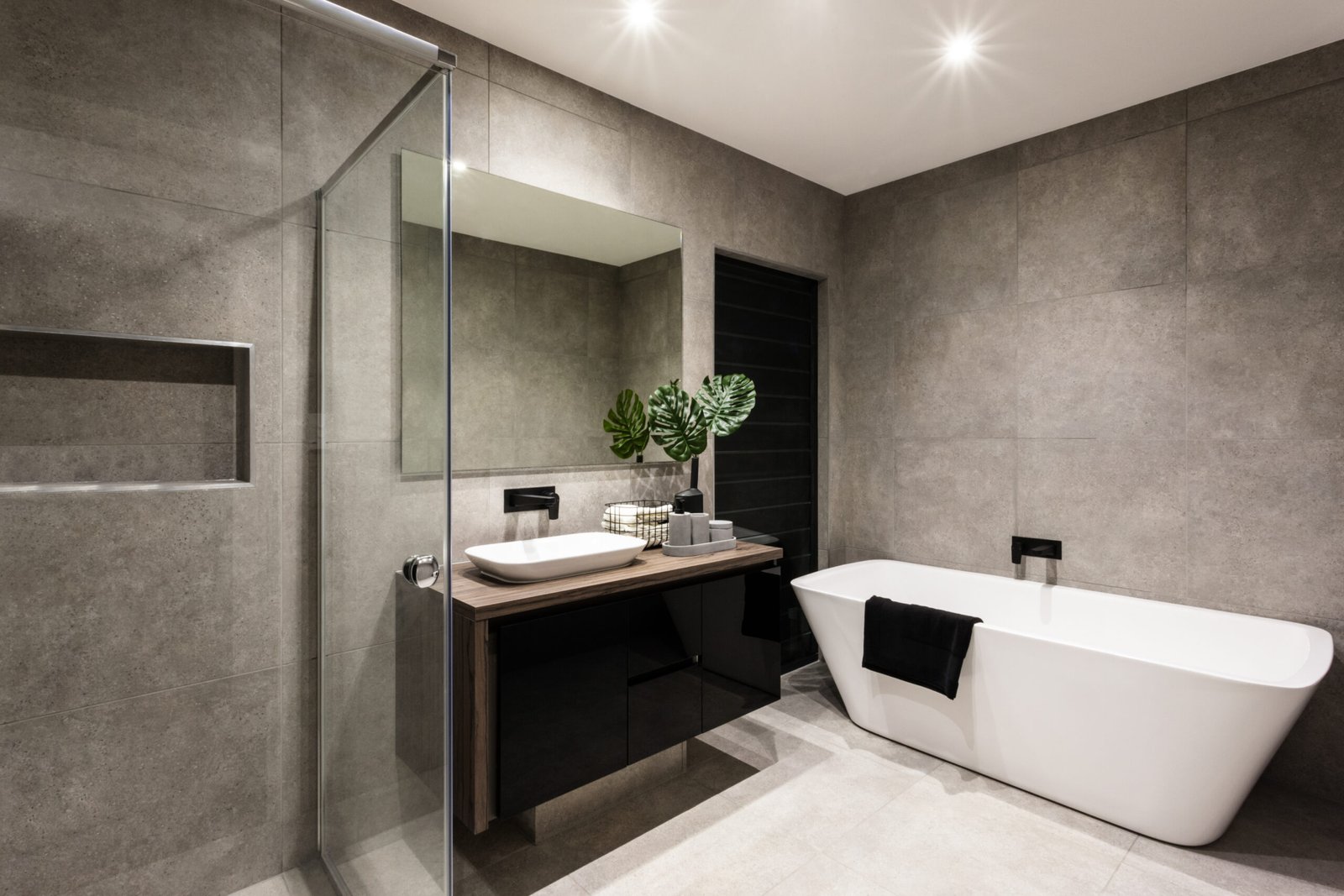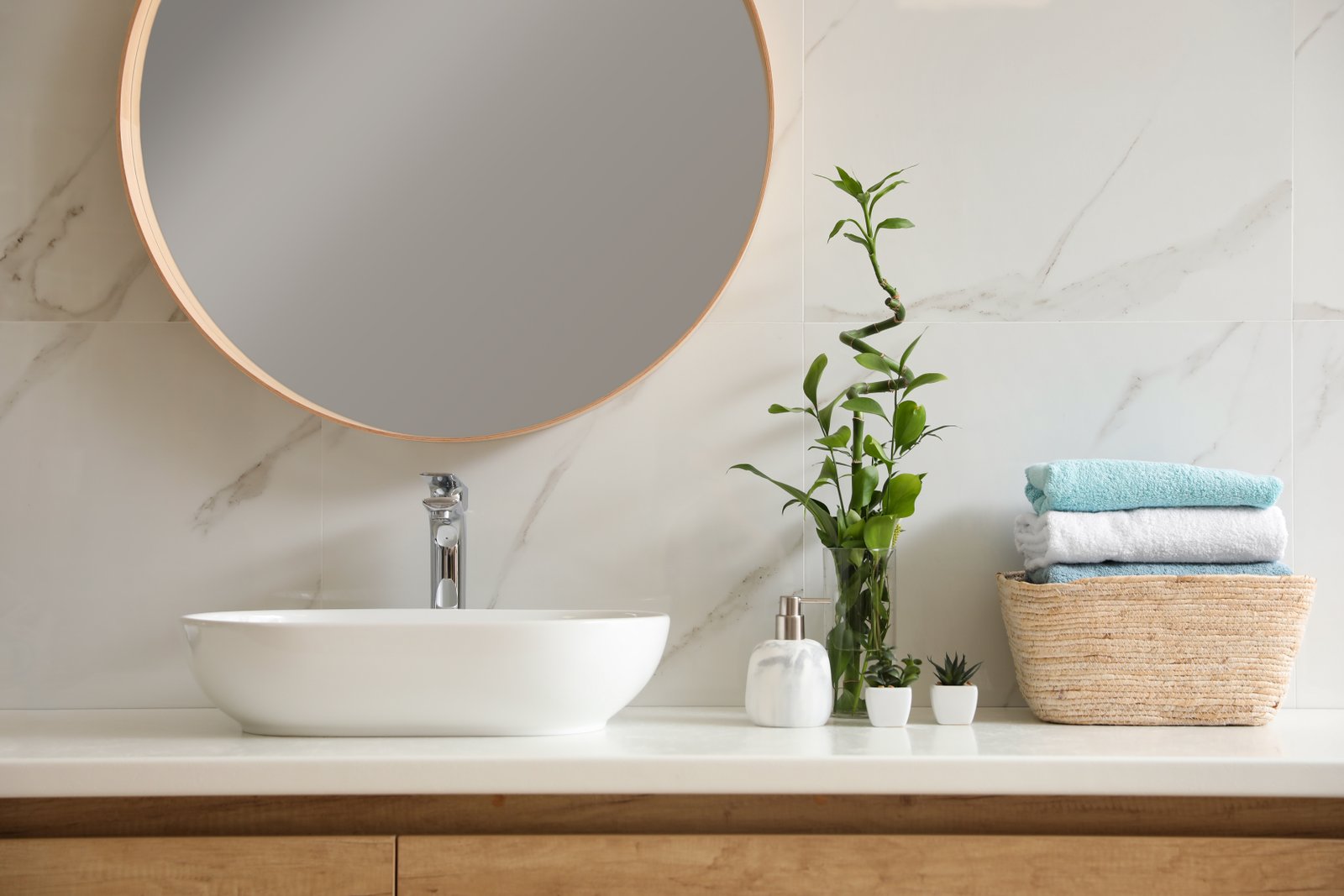 Small bathrooms are very important to get the design of the bathroom spot on. It can be a sink cabinet that is 5 cm shorter that can make the difference, make it a floating sink to make room feel more spacious. Also down to the size of the bath or shower tray selected can be make or break in a small bathroom. Just the little things that we cover in our bathroom design to make the best use of space available inside your new bathroom.
Large bathrooms you have more space to work with so have more freedom to how you we go about the bathroom design. Sometimes we can make it so we can fit a bath and shower tray into the space. you also have more options with the sink were you can go for the larger sinks to give the bathroom a more luxurious feel. Free standing baths also look excellent in large bathrooms.
tenement bathrooms glasgow
Tenement bathrooms are usually more plaster than tiles and extra woodwork involved than a standard bathroom. They can also sometimes have very unlevel floors that we can level off not a bother. Sometimes if the pipes have not been replaced before it can be old lead pipes that we can replace to modern pipe work. We have a lot of knowledge in tenement bathrooms as we have done loads of them.
Some images of before and after. Of Bathroom's Fitted
Bathroom Design by JJK. Making best use of space available
Bathrooms Fitted by our Top Quality Bathroom Fitter's
Wet wall Bathrooms Glasgow
As an alternative to a tiled bathroom, wetwall is an alternative and more cost effective option than tiles. Wetwall matched with LVT clicker flooring make for easy cleaning as there is no grout whatsoever and it is all still fully waterproof. There are 2 options of wetwall our bathroom fitters install. PVC Wetwall panels and Multipanel. Click on each word to have a look at the wetwall options available. Our wetwall bathrooms start from £2800 installed by our bathroom fitters Glasgow.
Our bathroom fitters specialise in tiling. Tiling ha that many options we will discuss with you what styles of tiling you like. We always keep up with the most up to date styles and will be expertly fitted by our bathroom fitters glasgow.
Area's our bathroom fitters Glasgow cover
Our bathroom fitters cover every area of Glasgow , Lanarkshire and Renfrewshire. Also even as far a field as Ayrshire.
Call/ Email us to receive a free quotation today :
Tel : 07862468895
Email : info@bathroomsglasgow.uk
Clarkston , Newton mearns , Shawlands , West End , Giffnock , Pollockshields , Bearsden
Hamilton , Blantyre , East Kilbride , Motherwell , Rutherglen , Burnside , Cambuslang , Bellshill
Paisley , Renfrew , Barrhead , Renfrew , Johnstone , Linwood , Erskine , Bishopton